Destroying humanity is a dream scenario for evil geniuses, but the world is pretty destructive already and a single individual or group of dedicated people would have to work extremely hard.
Unstoppability: How hard it is for external forces to stop the destruction. Speed and other factors (like the need to have a big machine constantly running) are evaluated. Extra style points if the method can be used to hold the world hostage.
Cities are great targets for mass destruction because they have lots of people, property, and are a mess to clean up. Highways, buildings, and the lives of people can total up to cost billions of dollars in repair. However, our noobish planning will probably only do a couple of million dollars of damage, tops.
Plan A: Artificial Lahars With Mount Rainier
Mount Rainier is in Washington and is one of the highest-risk volcanoes we have. It spans 368.15 square miles and the peak is at 14,410 ft.
Even if there is not an eruption, there is a risk for lahars1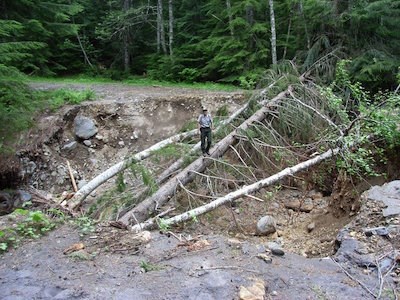 , which are violent streams of volcanic mudflow and debris. Picture wet concrete cascading down a valley towards a city and you're basically there.
Mount Rainier is one of the highest risk volcanoes in the world, and the USGS (United States Geological Survey) made this great graphic that was probably not intended for evil scheming.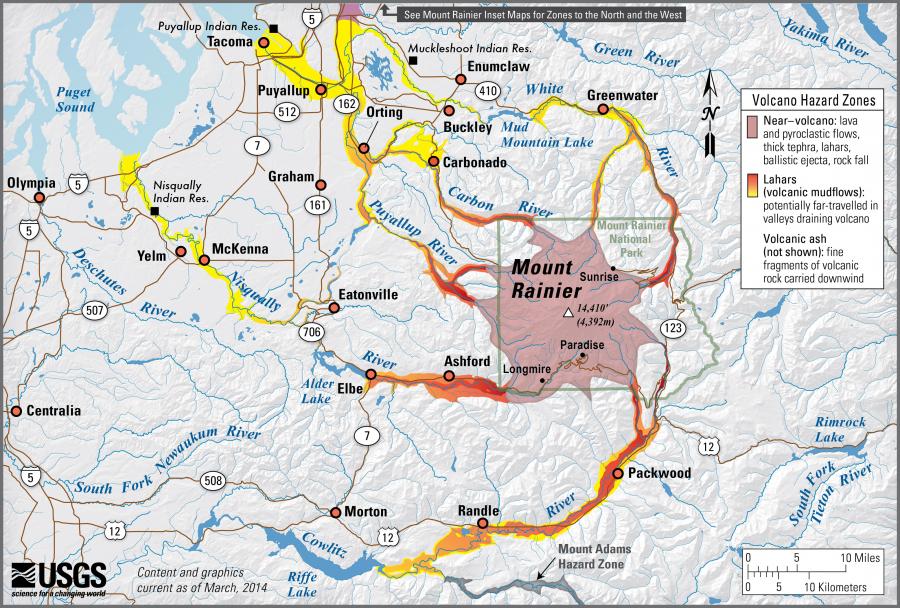 Then, looking at Google Earth, we can see that the nearest cities are Tacoma and Lakewood.
The method of transport will be the Puyallup River, which was also formed by lahars some 5,600 years ago. The valley has about 150,000 people in danger of lahars already.
The problem is that most of the lahars from Mount Rainier are not actually caused by eruptions but by water and ice interacting with magma, causing rapid movement of water, which swells into a lahar.
In order to create a lahar, we need to attack this area:
Mining away tons of rock and dirt isn't really that cool or evil so explosive charges set along both parts of the fork could release enough lava. An ANFO weighing 2,000 pounds could be made for about $1,500 (estimated from the Lowe's catalog).
Since my free speech is being detained by law, I cannot go into depth on bombs, but there are plenty of guides on creating and detonating explosives. Though, the most destructive of all is the DCAM explosive.
Plan B: Tiny Cobalt Bombs
"We have the feeling that when this time comes to science, God with His white beard will come down to earth swinging a bunch of keys, and will say to humanity, the way they say at 5 o'clock at the saloon: 'Closing time, gentlemen!'" – The Journal of the Goncourt Brothers; April 7, 1869.
Cobalt-60 is a particularly nasty element synthesized by humans. It emits gamma rays and is the byproduct of nuclear reactors. It also has a half-life of 5.27 years, making it an extremely hard substance to get rid of.
A 'traditional' cobalt bomb is a nuclear weapon packed with cobalt-59 (which is a single neutron away from its deadly cousin). Once the nuclear weapon explodes, the neutrons from the nuclear reaction turn the cobalt-59 into cobalt-60, spewing out a cloud of radioactive death into the atmosphere.
Unfortunately, cobalt doesn't really explode and we don't have access to nukes so we need the cobalt-60 to be in the bomb before exploding it. In addition, spreading out explosives in a dense, urban city is extremely hard to do.
At this point, we hit the largest bump. A massive bomb is unfeasible and planting explosives aren't easy, either. Assuming a very cheap price, each bomb costs $100 for solid cobalt-60 and another $200 for the actual bomb.
Deployment would be possible with cars, suitcases, etc.; all of the usual terrorist stuff.
If the radiation in the city gets to 8 sV, a person walking outside could get cancer or permanent damage to their lungs in less than an hour.
After talking with some smart college students, a cheaper plan was created:
Flour bombs.
If the Cobalt-60 can be safely ground into fine dust and mixed into ziplock bags filled with a powdery substance like flour (of course, flour isn't exactly the best powdery substance because it turns to mush in water), it can be dropped off buildings onto busy streets. Drones carrying the packages could be parked on various buildings to simultaneously drop all of the bombs after all of the bombs are planted.
Plan C: Space Littering
Space litter is a large problem. Space litter is composed of defunct satellites, rocket pieces, and the other random human junk we throw up there.
Scientists are scared that space junk will halt space exploration efforts by coating Earth in an impenetrable shield of junk orbiting faster than a bullet.
Robots have been proposed to collect space junk, but if we hit the point of no return before then it'll be impossible to send anything out of Earth for possibly the next century.
Things That Will Cease To Exist If We Are Trapped By Junk:

Anything reliant on satellites, like GPS, Earth monitoring devices, etc.
In order to trap humanity on Earth and stagnate all space endeavors, we need to shoot stuff out of Earth at about 10 km/s.
But that isn't the whole story, we also need to deal with air resistance, turbulent winds, and to avoid detection by authorities.
But first, we need a launcher.
Railguns Won't Work
Railguns are electromagnetic weapons that accelerate shit at immense speeds.
A railgun is made of three parts:
The power supply
The two rails
The armature
A railgun is basically a large circuit. Electricity from the power supply runs up the positive rail and travels back down the negative rail, creating a magnetic field where the electricity is.
The magnetic force travels around the rails in a counterclockwise circle around the positive rail and a clockwise circle around the negative rail.
The force exerted on the projectile is called Lorentz force, which can be given by F = qE + qv × B2F – Entire Force
Q – Particle Being Pushed
V – Velocity
E – Electric Field
B – Magnetic Field.
The armature is the thing that connects the circuit by bridging the two rails. The armature can be a conductive coating on the projectile or plasma.
In order to calculate the force for a railgun, you can use F = (i)(l)(b)3F – Overall Force
i – Electric Current
l – Rail Length
b – Magnetic field.
A railgun also must be able to support the massive amount of electricity required without melting the rails, having the rails split apart from the electromagnetic force. Most railguns can only fire once or twice before breaking down. The armature must also be capable of moving extremely fast without breaking under the force.
The Expensive Shopping List:

A bunch of capacitors that won't explode
A pair of large superconductor rails
A bunch of support for the rails so that they don't fly off.
A metal armature
A way to draw megajoules of electricity from the power grid
Some trash to shoot into LEO
After constructing your super-expensive railgun with a group of talented scientists and engineers, you'll need to fire the junk so that it ends up flying parallel to Earth's surface instead of crashing back down. This means that there'll also be a massive projectile traveling across the horizon if the railgun doesn't melt, explode, or break in some way or other.
Not only do you need megajoules of energy, but you'll also need to outdo the Naval Surface Warfare Center by at least threefold.
Thus, a railgun is not the best way to go. (And no, coilguns aren't even on the table anymore).
A Low-Tech Solution
Since railguns are dicks, we'll need to find a better way to reach LEO.
Luckily, we have this awesome new revised plan:
All we need to do is construct a gigantic pipe in the ground, fill it with gas, pack it with tons of junk, and light it up, creating a large crater and sending tons of shit into space in a firey ball.
Depending on the lack of skill, a gigantic spray gun may accidentally arise instead, splattering molten metal shrapnel over a large area rather than making a bunch of trash reach LEO.
---
Dear Noobs: If you didn't realize, this post was satirical

Resources
https://www.futurity.org/lava-water-volcanoes-explosions-1928772/
https://volcanoes.usgs.gov/volcanoes/mount_rainier/hazard_summary.html
https://science.howstuffworks.com/rail-gun1.htm
https://en.wikipedia.org/wiki/Cobalt-60